Are you working to improve sales conversation results?  Is your company struggling to acquire new customers, cross-sell, and win-back past customers?  Have you found that during sales conversations your salespeople are?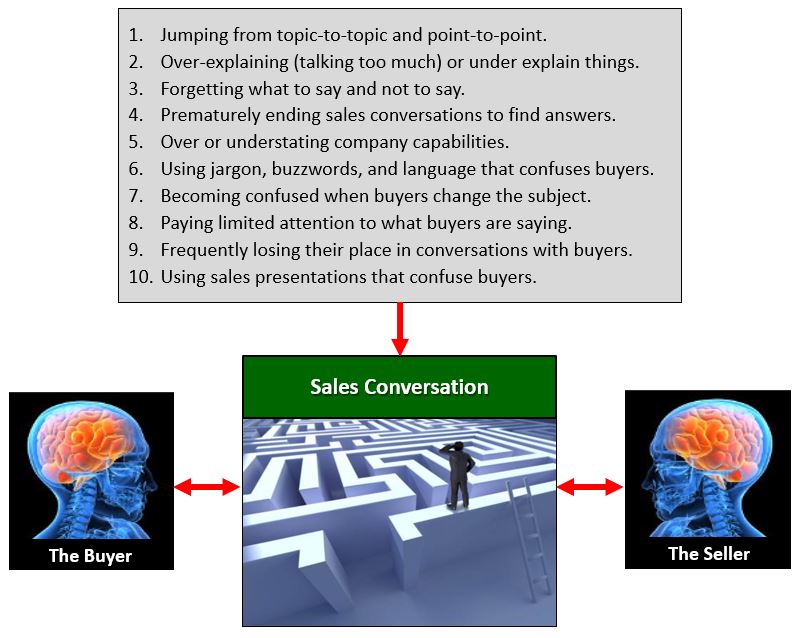 You're not alone if you're facing this situation.  So, how do we improve sales conversation results?  This question elicits a blizzard of improvement recommendations from colleagues and advisors. Their recommendations can be summarized in ten categories of sales improvement solutions:
Staffing – replace underperforming salespeople and managers.
Motivation – change your sales compensation plan and reward system.
Selling Skills – provide sales training.
Messaging – develop a new sales pitch.
Sales Collateral – create new brochures, product sheets, web landing pages.
Coaching – review call recordings, attend field sales meetings.
Information – craft new sales presentations, scripts, Wiki, FAQ sheets.
Procedures – build a sales playbook.
Technical Knowledge – provide refresher training on products, applications, pricing, etc.
Software – change your CRM system, sales library, auto-dialer
"But we've tried most of these solutions, and our sales conversation results have not improved."  Unfortunately, many companies find themselves caught in a do-loop of implementing a solution, failing, then trying another.  This frustrates business leaders and salespeople while wasting time, money, morale, and careers.  Why do these solutions fail?  It's simple.  Because they do not address the root cause of poor sales conversation results.
What's the Root Cause of Poor Sales Conversation Results?
After many failed attempts to solve this problem, we stepped back and explored the fundamentals of a sales conversation.  We asked four questions.  First Question – – what is the goal of a sales conversation?  We believe that the goal is to reach shared understandings and agreements that preferably result in the buyer purchasing.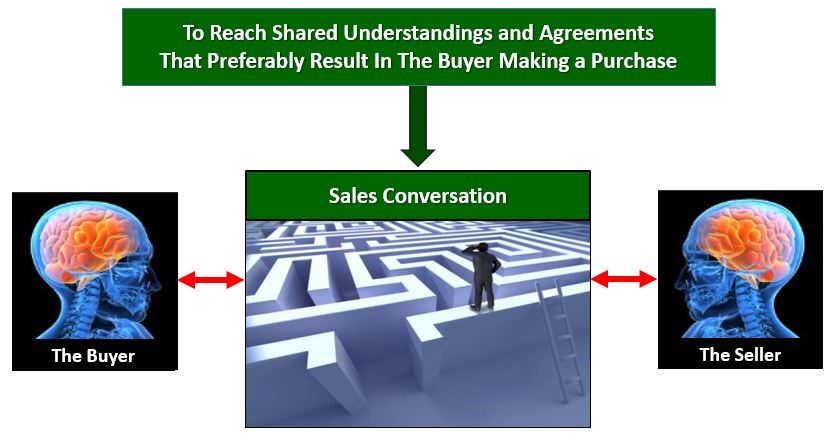 Third Question – – how do you improve the exchange of information between the buyer and seller?  This question was much harder to answer.  So, we observed and listened to thousands of sales conversations in multiple industries.  Some examples include software, information, publishing, professional services (accounting, engineering, environmental), agencies (insurance, financial advisors, real estate, mortgage), franchises, manufacturers, and distributors.  We found two things.
Finding #1 – salespeople perform ten tasks during the exchange of information with buyers.  Unfortunately, most salespeople are left on their own to figure out how to:
Get and keep the buyer on the same page throughout all stages of the sales conversation
Validate assumptions about what buyers a) know and don't know about the seller's company, offerings, and differentiation, b) value when determining if a vendor/partner is worthy of doing business with, and c) want to discuss now versus later.
Sequence and accurately present the right questions and answer options at the right time to: a) understand the buyer's situation, b) define and prioritize buyer problems, wants, and needs, c) clarify the impact the problems are having, and d) establish an economic reason for solving the problem.
Answer questions about products, services, applications, and competitors that buyers know to ask and don't know to ask.
Access and share information including a) presentations, b) demonstrations and comparisons, c) pricing and discounts, d) case studies and testimonials, and e) product and service information sheets.
Present recommendations and proposals including a) preparing solution options, b) pricing and discounts, and c) terms and conditions.
Test buyers at each stage of the exchange of information for understanding and agreement.
Switch roles between a) talking, viewing, and listening, b) interpreting and preparing responses, c) searching for information and documents,
Mitigate differences with buyers including a) frames of reference and assumptions, b) language and terminology, c) knowledge and experience, d) the timing of decisions, e) personal agendas and priorities, and f) personality styles.
Remember to apply a) selling skills and methods, b) company policies and procedures, c) best practices, and d) legal compliance measures.
This led to inconsistent execution and results from sales conversation-to-conversation and salesperson-to-person.  How good are your salespeople at guiding buyers through the exchange of information during sales conversations?
Finding #2
– salespeople repeatedly
disrupt technical experts with questions
before, during, and after sales conversations about:
Products, services, and applications

Competitors and differentiation points
Pricing, discounts, terms, and conditions
Operations
Other technical questions
This leads to the inconsistent and inaccurate application of technical information, as well as, frustration between technical experts and salespeople.  How good are your technical experts at transferring knowledge to your salespeople? We concluded that to improve the exchange of information between the buyer and seller we must address both findings.  This led to the fourth question – – how do you solve both problems at once?
How Do You Solve Both Sales Conversation Problems?
To answer this question, we started with the ten categories of traditional sales improvement solutions. Unfortunately, none of them solved both problems.
So, through a painstaking process of trial and error in multiple industries, we developed a selling tool.  The tool equipped salespeople to guide buyers through the exchange of information and transferred knowledge from technical experts to salespeople by:
Using a decision tree to anticipate, organize, and map the most precise conversation sequence. This includes questions, answer options, explanations, demonstrations, recommendations, comparisons, proposals, negotiations, objection handling, and closing. This enabled the conversation to be logical, easy to follow, and quick.
Visually presenting the right questions and answer options at the right time during the exchange of information. This increased the accuracy of what was discussed while minimizing confusion and the need for verbal explanations.
Equipping buyers to prioritize conversation topics based on their situation and problems. This increased buyer engagement and increased the relevancy of what was being discussed.
Providing "one-click" access to information needed by the buyer and seller to complete the exchange of information. This minimized interruptions and the need to prematurely end a sales conversation to find information.
Using plain English and simple visuals. This minimized misinterpretations and the need to ask clarifying questions.
Embedding application of selling skills and best practices. This extracted ROI from previous investments in sales training. It also enabled uniform application from sales conversation-to-conversation and sales person-to-person.
Distributing real-time updates of technical information, selling skills, and best practices. This ensured use of the most current information, skills, and practices.  It also nearly eliminated time spent reading emails, attending webinars, and participating in training.
Eliminating the need for multiple sales presentations, scripts and documents. This reduced confusion about what documents to use and eliminated the need to create new slides and presentations.
In short, this selling tool enabled salespeople to precisely guide buyers through the exchange of information from sales conversation-to-conversation.  It also enabled the precise transfer of knowledge from technical experts to salespeople.  Precise being defined as effective, efficient, and predictable.
Salespeople that have used this selling tool affectionately refer to it as TheNaviGuide.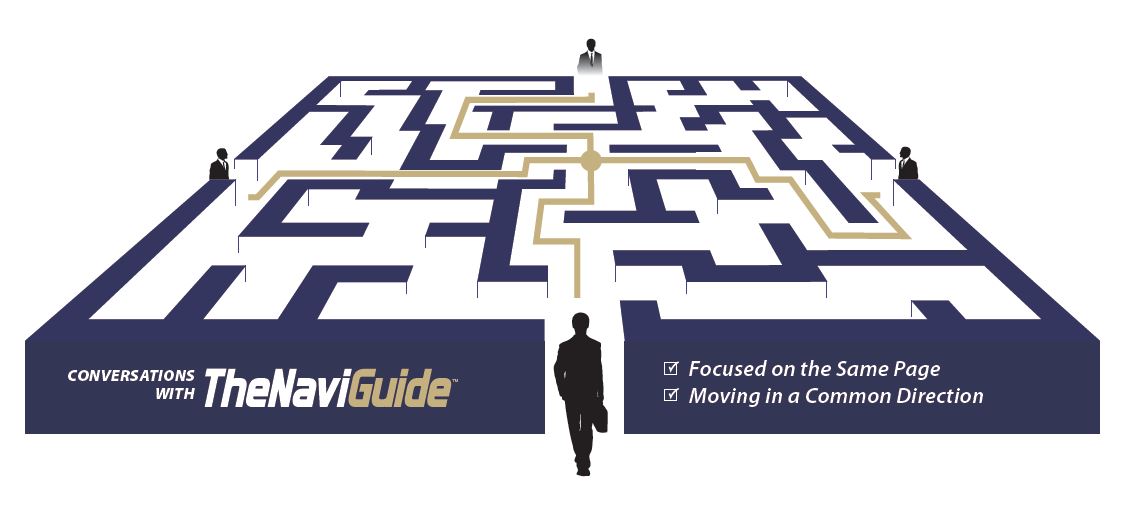 What Impact Does TheNaviGuide Have on Sales Conversation Results?
In simple terms, TheNaviGuide saves time, money, morale, and careers.  We experienced the following impacts: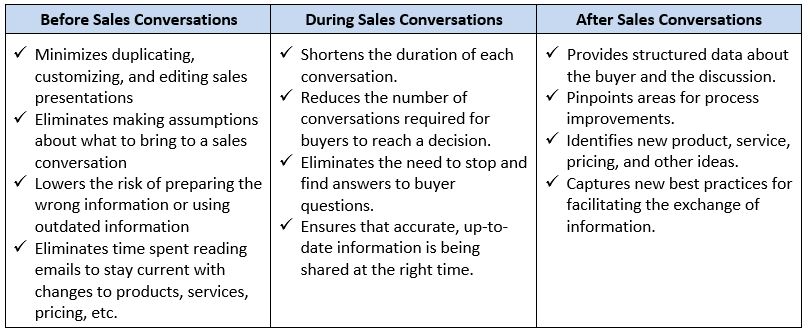 We also found that TheNaviGuide simultaneously solved four additional problems:
Onboarding new salespeople by cutting in half the time required to read, view, translate, memorize, practice, and rehearse how to apply knowledge and skills.
Communicating product, pricing and other changes to salespeople by eliminating the need for salespeople to read update emails and attend training meetings and webinars.
Training for new product launches by nearly eliminating time and money wasted on traditional training methods.
Post-merger cross-selling by equipping salespeople with the information needed to sell acquired company products and services.
How Do You Implement TheNaviGuide?
We learned the hard way, that implementing a new selling tool is difficult.  Why?  Because business leaders want simple solutions, with limited distractions, with little to no cost.  Salespeople are skeptical, do not like mandates, and demand to see results before changing their sales approach.  And technical experts are independent thinkers, strong advocates for their information, and are skeptical of salespeople.
So, rather than launch a large change effort and mandate that all salespeople adopt TheNaviGuide, we found success by:
Leaving the top performing salespeople alone. We did not tell them about the new selling tool.  We kept them focused on what they do best – – being top performers.
Requiring that all new salespeople use TheNaviGuide. It sped their learning curve and quickly turned many into top performers.  This caught the eye of current top performers.
Making underperforming salespeople use TheNaviGuide. This helped many of them turn into solid performers while validating that others could not.
Allowing average performing salespeople voluntarily use TheNaviGuide. Those that were hungry to beat our top performers did especially well.
This approach reduced resistance, cost and time to implement.  It also led to a grassroots movement within the sales team.  Current top performers began informally meeting with new salespeople that had become top performers.  They wanted to know what they were doing and how they were doing it.  Salespeople using TheNaviGuide began holding peer meetings to discuss how to improve the tool.  They also started to coach each other by reviewing call recordings and observing field sales meetings.
We were surprised to find that many salespeople adopted TheNaviGuide without any slogans, posters, t-shirts, formal training, or coaching.
Click Here for step-by-instructions for implementing TheNaviGuide.
How Long Does It Take and What Does It Cost to Deploy TheNaviGuide?
Deploying TheNaviGuide takes the same amount of time and cost as training a new salesperson. Think of it this way.  When a new salesperson is onboarding, they read and memorize volumes of product, service, pricing, and other information.  They ask countless questions and take mountains of private notes.  Then they create their own sales approach and modify sales presentations. This process takes time and is repeated with each new salesperson.
Building and deploying TheNaviGuide uses the same basic steps.  However, the information is captured once and then mapped into TheNaviGuide for everyone to use.  So, future new hires need not repeat the process and waste time and money.
Another way to think about the cost of TheNaviGuide is to compare it to the cost of a failed salesperson.  This cost can range from $60,000 to $300,000 depending on the industry.  Using either formula, TheNaviGuide is a low-cost solution to a high-cost problem.
When Will TheNaviGuide Be Complete?
Never.  TheNaviGuide is updated when you change products, services, pricing, and other information.  Mapping updates into TheNaviGuide eliminated the need for sending email updates and holding webinars or training for salespeople.  Everything that salespeople need to know is mapped into TheNaviGuide.  When something new pops-up, simply map it into TheNaviGuide.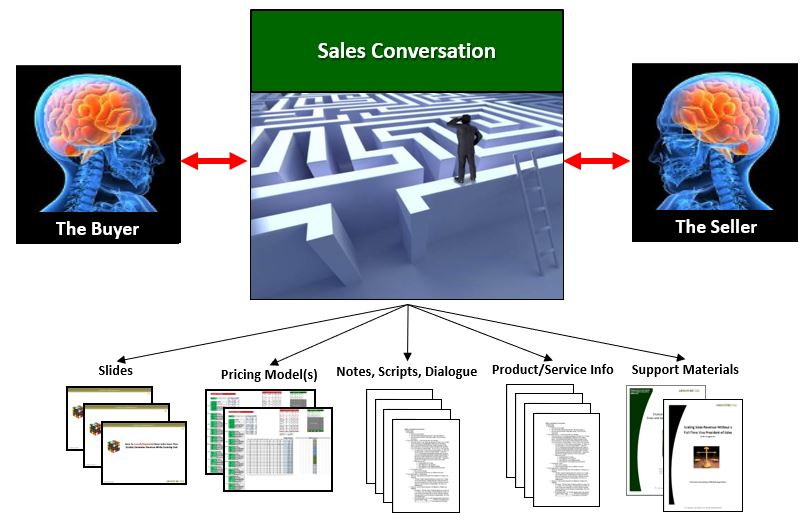 Some Lessons Learned
There are too many lessons learned to chronicle here.  But we recommend paying close attention to the following things:
Stop other sales improvement efforts that are not improving the exchange of information between the buyer and seller.
Update job descriptions, candidate sourcing, screening, and interviewing to include guiding buyers through the exchange of information.
Update sales compensation to include rewards for guiding buyers through the exchange of information.
Frequently coach salespeople on how to guide buyers through the exchange of information.
Educate your sales managers on how to enable salespeople to guide buyers through the exchange of information.
In Conclusion
To improve sales conversation results requires improving the exchange of information between the buyer and seller.  Improving the exchange of information requires that we improve:
How salespeople guide buyers through the exchange of information.
How technical experts transfer information to salespeople.
We found that the best way to improve both is to equip salespeople with a new selling tool called TheNaviGuide. The best way to implement TheNaviGuide is to focus on new and underperforming salespeople. Top performers should not be mandated to use TheNaviGuide.  Keep them focused on generating results. When sales call duration and sales cycle time go down, your salespeople will notice.  When average revenue per sale and close ratios double salespeople will fall in love with TheNaviGuide just like we did.
Please Take A Minute To:
Write a comment below
Share this blog with other sales leaders, salespeople, CEO's

and investors.

Click Here to learn more about Chief Sales Leader™
We bring precision – – effectiveness, efficiency, and predictability – – to sales execution!